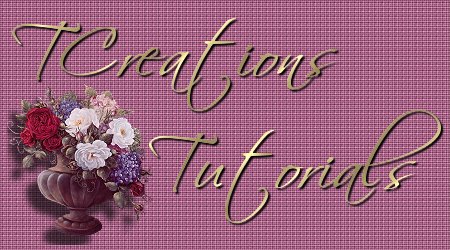 Welcome to my tutorial index page.
These tutorials and their contents are the property of TCreations, and are copyrighted by law. They may not be placed anywhere without my express written permission! You may link to them ONLY. ©TCreations 2002
If you would like to use my tutorials for a group setting or for lessons, please E-Mail me for my conditions.
Property of TCreations
::IMPORTANT::
When I was learning PSP, I tried every tutorial I could get my hands on. As a beginner then, I was grateful to the tutorial writers for allowing me access to their tutorials. It's very sad that now it's becoming harder for myself and others to be able to do certain tutorials on the Internet. So many "restrictions" have been placed on certain sites and tutorials, that when I go to those sites and read their harsh words, I just say "forget it". Now, being a tutorial writer myself, I remember what it was like being a beginner, and MY tutorials will NEVER carry such restrictions.
My good friend Patti, from Moon's Designs, has made a stance on her index page as to what she feels tutorial writing is all about. I wish more tutorial writers felt this way. I know I DO. To read her thoughts, go HERE.

I was thrilled to find this award in my mailbox! I started writing tutorials because of the encouragement of my good friend Patti from Moon's Designs, And along the way I have been inspired by many wonderful, talented people. Many I am honored to call my friends. Thank you Patti, Suecat, & Patao for this award, and a special thank you goes to my testers, Jenn, Barbara, & Tish.
My newest tutorials will be listed here. Click on the image to go to that tutorial.
| | |
| --- | --- |
| | |
| | Rugged Cross |
Click on the Images to go to that specific tutorial.
| | | | | |
| --- | --- | --- | --- | --- |
| Modern 3-Dimensional Frame | Emission Mirror Frame | The Firefighters Prayer | Memorial Flag Case | Garden Flag Stake |
| Floating Image In A frame | Frame From A Graphic | Teardrop Globe | Heart Shaped Elephant | Heart Shaped Mouse. |
| Inner Beauty | Mosaic Pillow Frame | Scenic Canoe | Snowflake Ornament | Kaleidoscope Straw Frame |
| Simple Swirl Frame | Triple Effect Frame | Welcome Sign | Easy Wall Plaque | How I Make Tags |
| Mosaic Cutout Frame | | | | |
| | | | | |
| | | | | |
| | | | | |
| | | | | |
| | | | | |
©TCreations 2002 All Rights Reserved